Gravity
design by: ° StudiOrange
Taglie | Size:
Small
Misure | Dimensions:
cm 13x11x21h
Colori | Colors:
Esterno bianco o nero, interno in alluminio | White or black outside, alluminum internal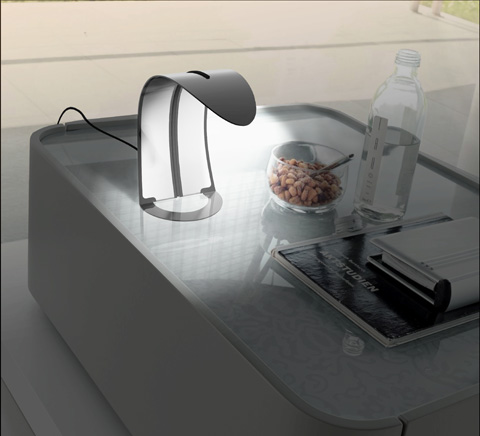 Lampada da tavolo
Lampada da tavolo elettrificata a led, dalla forma flessuosa e delicata che si ispira alla natura. Flettendosi armonicamente come una foglia, Gravity ha una finitura superficiale esterna nera o bianca texturizzata, sulla quale corre e si distingue il dettaglio essenziale della nervatura; internamente invece si irradia la calda luminosità del led, amplificata dal metallo riflettente con il quale la lampada è realizzata: puro, leggero alluminio.
Table lamp
LED electrified table lamp, of a supple and delicate shape, which is inspired by nature. Harmoniously flexing like a leaf, Gravity has a textured black or white outer surface finish, on which the precious detail of the ribbing runs and is visible; but internally it radiates the warm brightness of the LED, amplified by the reflection of metal, of which the lamp is made: pure lightweight aluminum.
Elettrificazione | Electricity : 4,4W LED 220-240V.

Pdf: Etichette Energetiche

Pdf: Energetic Labels

Scritto il: 01/10/2012
Da: Peter

Lascia un commento