Skylight, Nuove Luci su Paris- appendiabiti da parete
design by: Alessandro Giust
Taglie | Size:
Medium
Misure | Dimensions:
58x23,5x1,5
Colori | Colors:
Nero | Black
Versioni | Versions:
Acciaio | Steel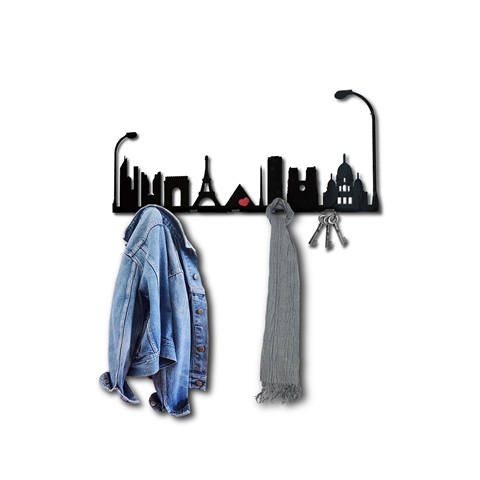 Il raggio laser corre sulla lastra di metallo e rapido incide il profilo di Parigi. Ogni dettaglio viene ricavato con estrema precisione, con la capitale francese che si staglia sulla parete grazie ai suoi contorni architettonici di definita identità. Questa versione di Skylight consente di appendere indumenti leggeri, sciarpe, cappelli, personalizzando il tuo ambiente.

Chi guarda nelle profondità di Parigi ha le vertigini. Niente di più fantastico, niente di più tragico, niente di più superbo.
(Victor Hugo)
The laser beam runs on the metal plate and quickly engraves the profile of Paris. Every detail is obtained with extreme precision, with the French capital standing out on the wall thanks to its architectural contours of defined identity. This version of Skylight allows you to hang light clothing, scarves, hats, personalizing your environment.

Anyone who looks into the depths of Paris is dizzy. Nothing more fantastic, nothing more tragic, nothing more superb. (Victor Hugo).