Skylight, Nuove Luci su Milano
design by: Alessandro Giust
Taglie | Size:
Medium
Misure | Dimensions:
58x23,5x3 cm
Colori | Colors:
Nero | Black
Versioni | Versions:
Acciaio | Steel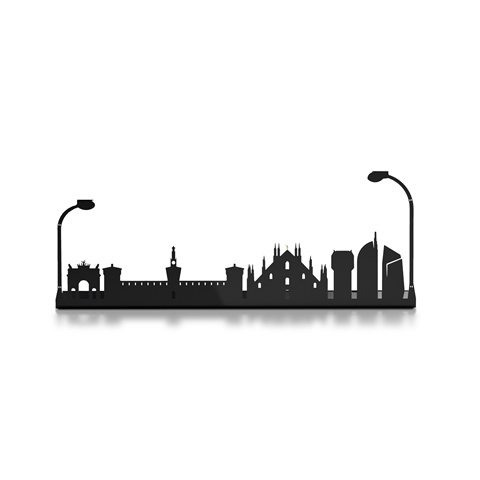 Decorazione luminosa
Skylight, Nuove Luci su Milano è oggetto luminoso, che arreda e decora, creando un'atmosfera intima e confortevole.
Il contorno degli edifici antichi dello scenario milanese è affiancato da quello delle moderne costruzioni. Ogni elemento risulta facilmente identificabile e si rischiara di luce calda che giunge lateralmente da due fonti distinte con la forma di romantici lampioni. Riesci a riconoscere il Duomo e la Torre Velasca?
Skylight si può appoggiare su un piano oppure fissare a muro; la luce LED viene alimentata tramite ingresso USB.
Illuminazione: LED bianco caldo, DC 5V.
Lighting Decor
Skylight, New Lights on Milano is a luminous object that furnishes and decorates, creating an intimate and comfortable atmosphere.
The outline of the ancient buildings of the Milanese scenario is flanked by that of modern buildings. Every element is easily identifiable and is illuminated by warm light that comes laterally from two distinct sources in the form of romantic street lamps. Can you recognize the Duomo and the Velasca Tower?
Skylight can be placed on a surface or fixed to the wall; the LED light is powered via USB input.
Lighting: Warm white LED, DC 5V.

Scritto il: 11/04/2021
Da: Antonella

Lascia un commento