Claude & Claudette
design by: Andrea Radice e Folco Orlandini
Taglie | Size:
Small-Medium
Misure | Dimensions:
Claudette: cm 48x12x25h Claude: cm 75x19x39,5h
Colori | Colors:
Bianco, nero, rosso, arancione, verde, fucsia, giallo, azzurro serenity, lilla| White, black, red, orange, green, fuchsia, yellow, blue serenity, lilac
Versioni | Versions:
Destra, Sinistra | Right, Left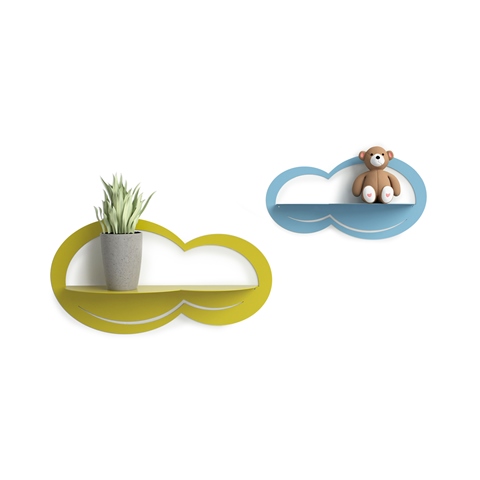 Vanno vengono, ogni tanto si fermano
Le Nuvole – Fabrizio De Andrè
Claude & Claudette di Andrea Radice e Folco Orlandini un classico del Design di CAOSCREO, si avvicinano ai tratteggi tondeggianti dell'astrattismo di inizio Novecento, perché il loro contorno vuole riprodurre quello di una nuvola. Con un po' di fantasia i salti temporali rimanderanno a Joan Mirò e a Vasilij Kandinskij, a una libertà espressiva senza pari che privilegia forme differenti e armonizzate talvolta anche dal contrasto.
Sono infatti mensole che hanno anche funzione di comodino, che fluttuano quindi testimoniando di uno spirito indipendente. Disponibili in più colori in metallo verniciato e nelle versioni speculari destra e sinistra, sono adatte per un contesto creativo che rompe la monotonia di certi ambienti nell'Interior.
They come and go, sometimes they stop
The Clouds – Fabrizio De Andrè
Claude & Claudette by Andrea Radice and Folco Orlandini, a classic of CAOSCREO Design, approach the rounded outlines of early 20th century abstract art, because their outline wants to reproduce that of a cloud. With a little imagination, the time lapse will refer to Joan Mirò and Vasilij Kandinskij, to an unparalleled freedom of expression that favors different and sometimes harmonized forms also by contrast.
They are in fact shelves that also functions as a bedside table, which float thus testifying to an independent spirit. Available in several colors in painted metal and in the right and left specular versions, they are suitable for a creative context that breaks up the monotony of certain interior environments.

Scritto il: 05/02/2010
Da: Alessandra

Scritto il: 26/05/2011
Da: Ramona

Scritto il: 07/11/2011
Da: Florindo

Scritto il: 13/12/2011
Da: Elena

Scritto il: 19/10/2012
Da: Ileana

Scritto il: 07/06/2013
Da: ivana

Scritto il: 15/09/2016
Da: Miki

Lascia un commento