Can't Wait
design by: Caoscreo Design
Taglie | Size:
Medium
Misure | Dimensions:
cm 27x4x50h
Colori | Colors:
Bianco, nero, calamina, acciaio, fucsia, azzurro serenity
---
White, black, calamine, steel, fuchsia, serenity blue
Versioni | Versions:
acciaio Calamina, acciaio Spazzolato
---
Calamine steel, Brushed steel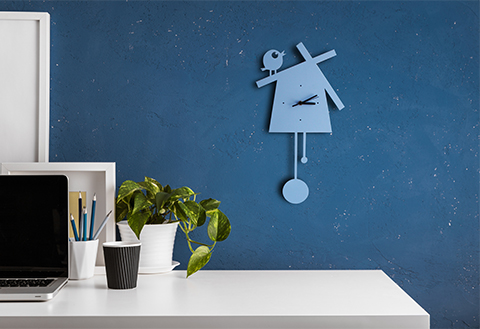 Le contraddizioni che danno un'immagine unica
Can't Wait, l'orologio analogico dalle forme geometriche
Scandire il tempo è da sempre un'ossessione per gli esseri umani: dal meridiano all'orologio da taschino, fino a quelli da polso – ormai sempre più relegato alla dimensione del collezionismo e del vintage, dunque dell'arte – l'uomo ha cercato di portare con sé il "controllo" delle ore.
Per il brand CAOSCREO la regolarità delle forme è qualcosa da lasciarsi alle spalle. Analogico da parete, Can't Wait è l'orologio che ha in sé le contraddizioni che gli danno un'immagine unica, perché cerca una sintesi tra le forme geometriche attraverso una rivisitazione in chiave creativa dell'orologio a pendolo a Cucù, quello così denominato per il suono che conferivano cercando di imitare il cuculo. Costituito di una base trapezoidale, questo complemento d'arredo è disponibile nei colori bianco, fucsia, azzurro serenity, nero, o ancora nelle versioni acciaio e calamina.
---
The contradictions that give a unique image
Can't Wait, the Analog Clock with Geometric Shapes


Marking time has always been an obsession for human beings: from the meridian to the pocket watch, up to wristwatches – now increasingly relegated to the dimension of collecting and vintage, therefore of art – man has sought to carry the "control" of the hours with you.
For the CAOSCREO brand, the regularity of shapes is something to leave behind. Wall analogue, Can't Wait is the clock that contains the contradictions that give it a unique image, because it seeks a synthesis between geometric shapes through a creative reinterpretation of the cuckoo pendulum clock, the one so named for the sound they made trying to imitate the cuckoo. Consisting of a trapezoidal base, this piece of furniture is available in white, fuchsia, serenity blue, black, or in the steel and calamine versions.

Scritto il: 15/01/2023
Da: Giovanna

Lascia un commento