Can't Wait
design by: Origami Steel Studio
Taglie | Size:
Medium
Misure | Dimensions:
cm 27x4x50h
Colori | Colors:
Bianco, nero, bruno, rosso, nero, arancione, verde, fucsia, giallo, azzurro Sky | White, black, dark brown, red, black, orange, green, fuchsia, yellow, Sky blue
Versioni | Versions:
acciaio Calamina, acciaio Spazzolato | Calamine steel, Brushed steel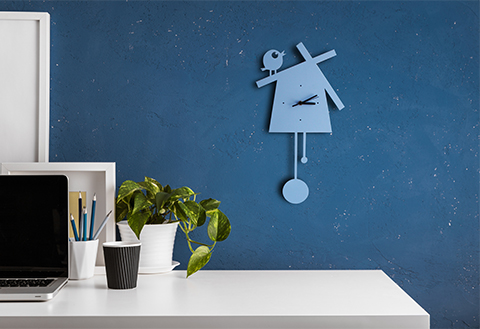 Orologio da parete
Can't wait è l' orologio analogico che, ispirandosi alle forme della Natura e aggiungendo allegria ad ogni ambiente, "accompagna e scandisce il tuo Tempo". Le sue innumerevoli versioni colore sono adatte ad ogni ambiente e in sintonia con le tinte delle stagioni che susseguendosi, segnano il trascorrere del tempo.
Wall Clock
Can't wait is the analog clock, that, inspired by the forms of Nature and adding joy to any room, "accompanies and marks your Time." Its countless color versions are suitable for any environment and match the hues of the seasons, that, following one another, mark the passage of time.