Skylight, Nuove Luci su Roma- appendiabiti
design by: Alessandro Giust
Taglie | Size:
Medium
Misure | Dimensions:
58x23,5x1,5 cm
Colori | Colors:
Nero | Black
Versioni | Versions:
Acciaio | Steel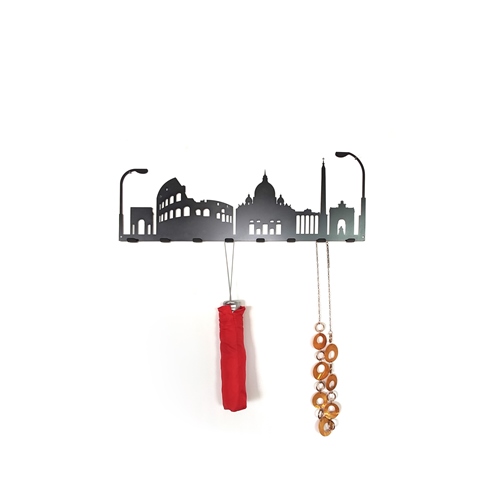 Il raggio laser corre sulla lastra di metallo e rapido incide il profilo di Roma. Ogni dettaglio viene ricavato con estrema precisione, con la capitale italiana esaltata nel suo intramontabile profilo storico. Questa versione di Skylight consente di appendere indumenti leggeri, sciarpe, cappelli, personalizzando il tuo ambiente.

Roma è la capitale del mondo! In questo luogo si riallaccia l'intera storia del mondo, e io conto di essere nato una seconda volta, d'essere davvero risorto, il giorno in cui ho messo piede a Roma. Le sue bellezze mi hanno sollevato poco a poco fino alla loro altezza. (Johann Wolfgang von Goethe).
The laser beam runs on the metal plate and rapidly engraves the profile of Rome. Every detail is obtained with extreme precision, with the Italian capital enhanced in its timeless historical profile. This version of Skylight allows you to hang light clothing, scarves, hats, personalizing your environment.

Rome is the capital of the world! In this place the entire history of the world is linked, and I count on being born a second time, of being truly risen, the day I set foot in Rome. Its beauties have raised me little by little to their height.
(Johann Wolfgang von Goethe)