Maple Leaf
design by: Caoscreo Design
Taglie | Size:
Medium
Misure | Dimensions:
cm 47x12x41h
Colori | Colors:
Bruno, rosso, verde, fucsia, lilla, acciaio lucido
---
Dark brown, red, green, fuchsia, lilac, steel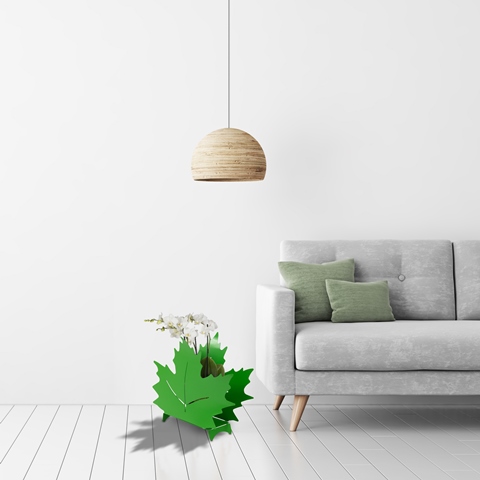 Niente di più vero delle foglie, che oscillano lievi al soffiare del vento.
CAOSCREO ha voluto immortalare una foglia fra tutte, la foglia più celebre, la più particolare e iconica. La Foglia d'Acero è complessa in tutti i suoi dettagli e risulta perfetta nei toni che richiamano la Primavera, l'Estate e l'Autunno... allora ecco il metallo nelle verniciature verde, giallo, arancione, rosso e bruno... per un portariviste o portavasi assolutamente speciale.
La Foglia d'Acero è simbolo di una nazione; esposto in diversi vessilli, è adesso stupenda decorazione.
Il suo profilo simmetrico è solido e pulito. Tra il foliage la si può ritrovare in un parco cittadino passeggiando in Central Park oppure nel Tiergarten di Berlino o magari semplicemente in qualche casa milanese, in un ufficio parigino, in un disimpegno o in una confortevole sala d'attesa.
---
Nothing more true than leaves, which sway lightly in the wind.
CAOSCREO wanted to immortalize one leaf of all, the most famous, the most particular and iconic leaf. The Maple Leaf is complex in all its details and is perfect in the tones that recall Spring, Summer and Autumn... so here is metal in green, yellow, orange, red and brown paint... for an absolutely special magazine rack or plant pot holder.
The Maple Leaf is a symbol of a nation, displayed in different banners; it is now a beautiful decoration.
Its symmetrical profile is solid and clean. Among the foliage it can be found in a city park walking in Central Park or in the Tiergarten in Berlin or perhaps simply in some Milanese house, in a Parisian office, in a hallway or in a comfortable waiting room.

Scritto il: 30/08/2022
Da: Michelle

Lascia un commento