Roger
design by: Lorenzo Radaelli
Taglie | Size:
Large
Misure | Dimensions:
cm 43x44x172h
Colori | Colors:
Bianco, Rosso, Verde, Fucsia, Giallo, Lilla
---
White, Red, Green, Fuchsia, Yellow, Lilac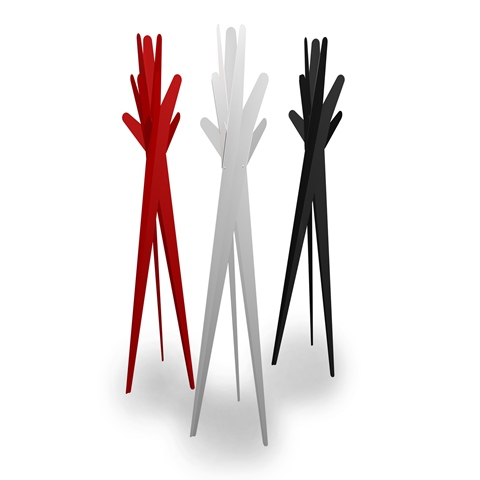 "Le mie competenze professionali sono orientate alla sperimentazione di nuovi linguaggi espressivi e soluzioni progettuali strategiche, capaci di realizzare concept creativi in prodotti innovativi". Lorenzo Radaelli
Roger è...
L'idea di torsione modulare pesca nell'immagine di uno Shanghai e in tutto ciò che lo ricorda... ciuffi, mazzetti dalle lunghezze irregolari, casuali. ... Un bouquet di fiori, fili d'erba stretti tra le mani…Difficile è riconoscere il principio base che origina il tutto, perché capire significa annoiarsi. Se il modulo è semplice e l'enigma si svela subito non rimane nulla da scoprire. Il caos non si palesa, bensì si interpreta.
Così nasce Roger di Lorenzo Radaelli per CAOSCREO, appendiabiti originale e colorato. La sua sagoma è realizzata in metallo, riciclabile e perfettamente ecosostenibile.
Si compone di 3 parti disposte a 360° e raccordate tra di loro tramite una vite.
---

"My professional skills are oriented towards experimenting with new expressive languages and strategic design solutions, capable of realizing creative concepts in innovative products". Lorenzo Radaelli
Roger is...
The idea of modular twist draws on the image of a Shanghai and in everything that reminds it... tufts, bunches of irregular, random lengths. ... A bouquet of flowers, blades of grass held in your hands…It is difficult to recognize the basic principle that gives rise to everything, because understanding means getting bored. If the form is simple and the enigma is revealed immediately, there is nothing left to discover. Chaos is not revealed, but it interprets itself.
Thus was born Roger by Lorenzo Radaelli for CAOSCREO, an original and colorful coat stand. The silhouette of him is made of metal, recyclable and perfectly eco-sustainable.
It consists of 3 parts arranged at 360° and connected to each other by means of a screw.

Scritto il: 02/06/2011
Da: Barbara

Scritto il: 13/05/2023
Da: Maurizio

Lascia un commento