Christmas Ball Pack
design by: Caoscreo :: Rosa E. Celestino :: Alalda_ Design
Taglie | Size:
XSmall
Misure | Dimensions:
cm 8°x 5pz | pcs
Versioni | Versions:
Metallo Lucido
---
Polished metal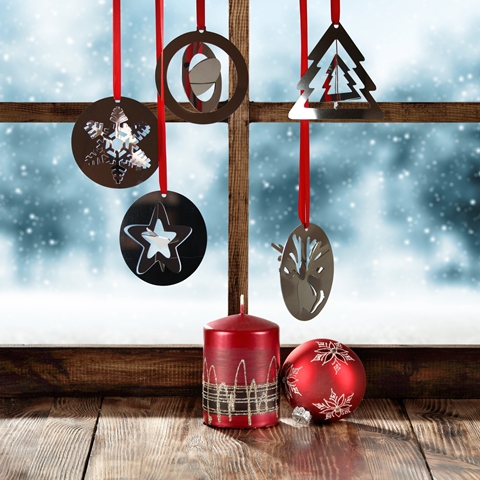 Cinque soggetti di design che non passano di moda
Christmas Balls, l'eleganza natalizia dell'acciaio
Christmas Balls sono decorazioni per l'albero di Natale realizzate dal brand CAOSCREO, che utilizza l'eleganza dell'acciaio abbinandola alle forme minuziose dei simboli di questa festività.
La confezione regalo include cinque soggetti di design che non passano mai di moda: la renna, l'Albero e poi il fiocco di neve, la sfera e la stella.
Ognuno tra questi ha un suo significato storico e mitologico che si riflette nella decoratività.
---
Five design subjects that never go out of style
Christmas Balls, the Christmas Elegance of Steel
Christmas Balls are decorations for the Christmas tree made by the CAOSCREO brand, which uses the elegance of steel combining it with the meticulous shapes of the symbols of this holiday.
The gift box includes five design subjects that never go out of style: the reindeer, the tree and then the snowflake, the sphere and the star.
Each of these has its own historical and mythological significance which is reflected in the decorativeness.