Puzzle table
design by: Puzzle One Planet
Taglie | Size:
Medium
Misure | Dimensions:
"In" version: cm 50x50x36h "Out" version: cm 70x70x36h
Colori | Colors:
Bianco, nero, rosso
---
White, black, red

Versioni | Versions:
"In", "Out"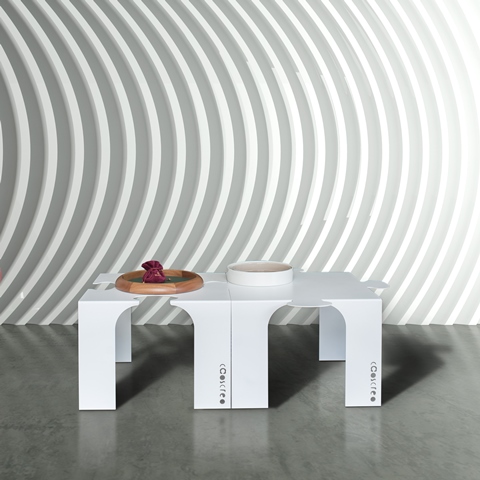 Le metà trasfigurano concettualmente il puzzle
Puzzle, razionale e sinuoso
Puzzle Table In e Out, disegnato da Puzzle One Planet, composto di due parti complementari, è un tavolino "sospeso tra due mondi", perchè osservandolo ci domanderemmo quale lato prevale, se quello "razionale" oppure quello sinuoso.
Entrambe le metà sono però studiate poiché trasfigurano concettualmente il puzzle (e pertanto si incastrano, volendo). L'armonia dell'insieme è così generata dall'originalità di questo complemento d'arredo di CAOSCREO.
---
The halves conceptually transfigure the puzzle
Puzzle, Rational and Sinuous
Puzzle Table In and Out, designed by Puzzle One Planet, made up of two complementary parts, is a coffee table "suspended between two worlds", because observing it we would wonder which side prevails, whether the "rational" or the sinuous one. However, both halves are studied because they conceptually transfigure the puzzle (and therefore fit together, if desired). The harmony of the whole is thus generated by the originality of this piece of furniture by CAOSCREO.

Scritto il: 20/10/2021
Da: Concetta

Lascia un commento