Skylight, Nuove Luci su Paris
design by: Alessandro Giust
Taglie | Size:
Medium
Misure | Dimensions:
58x23,5x3 cm
Colori | Colors:
Nero
---
Black
Versioni | Versions:
Acciaio
---
Steel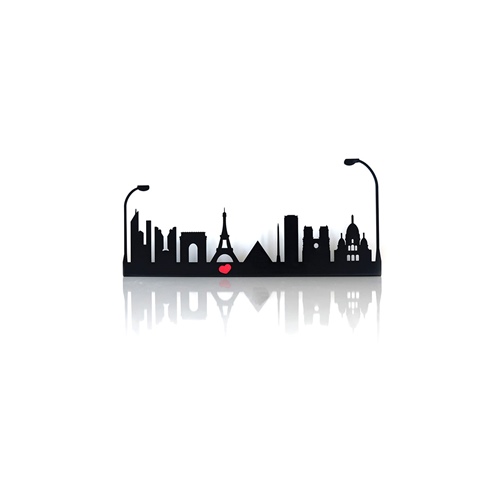 Una città attraverso le epoche
Skylight, Nuove Luci su Paris. Lo skyline della Ville Lumière
Parigi è una città che ha attraversato diverse epoche e che da diverse epoche è stata attraversata: in essa si rispecchiano l'amore per il sapere, la storia, il romanticismo, le lotte per il potere, le arti.
Skylight, Nuove Luci su Paris è l'oggetto di interior Design ideato da Alessandro Giust e realizzato da CAOSCREO ispirato alla Ville Lumière.
Con tecnologica e millimetrica precisione è possibile concretizzare idee partendo da una lastra metallica, ricavando la sagoma di Parigi attraverso il taglio laser e la piega e proponendo lo skyline della storica città illuminata da lampioni che mettono in risalto il suo profilo tramite due LED.
---
A city through the ages
Skylight, New Lights on Paris. The Skyline of the Ville Lumière
Paris is a city that has gone through different eras and has been crossed for different eras: it reflects the love of knowledge, history, romanticism, struggles for power, the arts.
Skylight, New Light on Paris is the interior design object conceived by Alessandro Giust and created by CAOSCREO inspired by the Ville Lumière.
With technological and millimetric precision it is possible to realize ideas starting from a metal plate, obtaining the shape of Paris through laser cutting and folding and proposing the skyline of the historic city illuminated by street lamps that highlight its profile through two LEDs.