Skylight, Nuove Luci su Milano, appendiabiti
design by: Alessandro Giust
Taglie | Size:
Medium
Misure | Dimensions:
58x23,5x1,5
Colori | Colors:
Nero | Black
Versioni | Versions:
Acciaio | Steel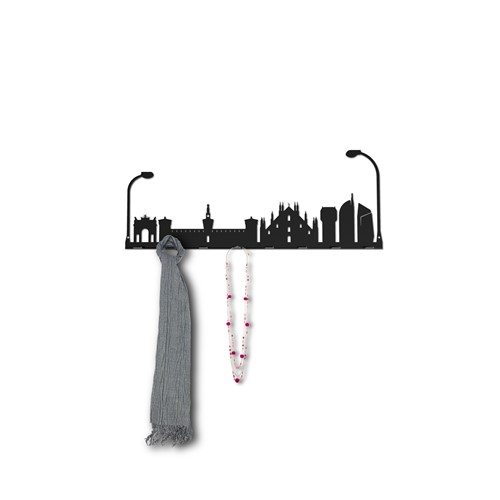 Possono essere appese giacche, chiavi e borse.
Ogni dettaglio viene ricavato con estrema precisione. Poi una goccia color oro illumina la Madonnina sul Duomo, nota inconfondibile della città.
Tutte queste sere sono andato, verso l'una del mattino, a rivedere il Duomo di Milano. Questa chiesa, rischiarata da una bella luna, offre uno spettacolo di bellezza straordinaria ed unica al mondo. L'architettura non mi ha mai offerto simili sensazioni.
Stendhal
Fissaggio a parete con tassello.
Jackets, keys and bags can be hung.
Every detail is obtained with extreme precision. Then a gold-colored drop illuminates the Madonnina on the Duomo, an unmistakable note of the city.
All these evenings I went, around one in the morning, to see the Duomo of Milan again. This church, illuminated by a beautiful moon, offers a spectacle of extraordinary and unique beauty in the world. Architecture has never offered me such sensations.
Stendhal
Wall fixing with plug.