Skylight, Nuove Luci su London
design by: Alessandro Giust
Taglie | Size:
Medium
Misure | Dimensions:
58x23,5x3 cm
Colori | Colors:
Nero | Black
Versioni | Versions:
Acciaio | Steel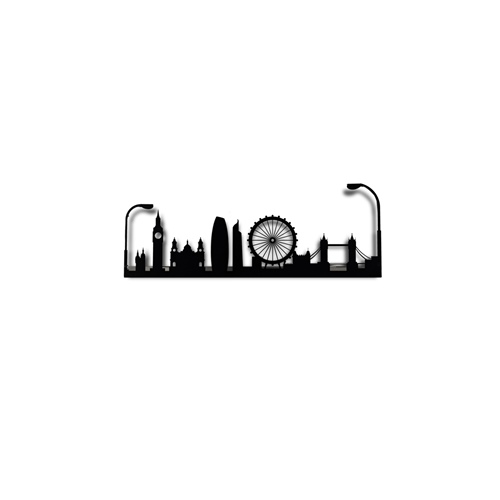 Decorazione Luminosa
Skylight, Nuove Luci su Londra è un oggetto luminoso che arreda e decora, creando un'atmosfera intima e suggestiva.

La sagoma degli edifici dello scenario londinese affianca elementi di un'architettura che attraversa le epoche, tra torri e cattedrali nel pieno stile londinese.

Ogni parte dell'insieme ha un suo modo di dominare lo spazio ed è rischiarato dalla luce laterale che dai due lampioni scende e illumina le forme. La luminosità che crea atmosfera è il cardine di ogni progetto "Skylight".
Skylight si può appoggiare su un piano oppure fissare a muro; la luce LED viene alimentata tramite ingresso USB.
Lighting decor
Skylight, New Lights on London is a luminous object that furnishes and decorates, creating an intimate and suggestive atmosphere.
The silhouette of the buildings in the London scenario combines elements of architecture that spans the ages, including towers and cathedrals in full London style.

Each part of the whole has its own way of dominating the space and is illuminated by the side light that descends from the two street lamps and illuminates the shapes. The brightness that creates atmosphere is the cornerstone of every "Skylight" project.

Skylight can be placed on a surface or fixed to the wall; the LED light is powered via USB input.