Lampadin@
design by: Enrico Cesana
Taglie | Size:
Small
Misure | Dimensions:
cm 14x8x22,5h
Colori | Colors:
Bianco, nero, verde (cavo rosso), rosso, arancione, fucsia, giallo, azzurro serenity, lilla (cavo bianco)
---
White, black, green (red cable), red, orange, fuchsia, yellow, serenity blue, lilac (white cable)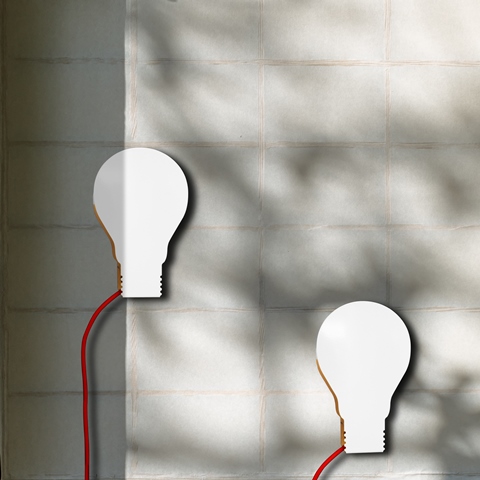 Spesso la finalità non è solo estetica, ma piuttosto è ricreare un microcosmo di vera tranquillità
Lampadin@, soluzione versatile
Lampadin@ riporta con la sua figura, ideata da Enrico Cesana, un tocco di allegria in ambienti altrimenti assopiti. Realizzata in metallo, come il resto della collezione, e verniciata in tante tinte diverse, riuscirà a caratterizzare immediatamente una parete o una superficie su cui è appoggiata. La sua struttura ambivalente permette infatti di poterla spostare con facilità e trasformarla da lampada da tavolo ad applique.
Occorre illuminare gli spazi nella maniera più vicina alla propria personalità e al proprio carattere. Il fascino delle lampade CAOSCREO ti accompagnerà durante tutto il periodo invernale, quando le serate tra le quattro mura domestiche sembreranno senza fine. Le nostre lampade rischiareranno le fresche serate estive, mentre aprendo la porta accoglierai gli amici in visita.
---
Often the purpose is not just aesthetic, but rather it is to recreate a microcosm of true tranquillity
Lampadin@, Versatile Solution
Lampadin@ brings back with its figure, designed by Enrico Cesana, a touch of joy in otherwise sleepy environments. Made of metal, like the rest of the collection, and painted in many different colours, it will immediately characterize a wall or surface on which it is placed. Its ambivalent structure allows it to be moved easily and transformed from a table lamp to a wall lamp.
It is necessary to illuminate the spaces in the closest way to one's own personality and character. The charm of CAOSCREO lamps will accompany you throughout the winter period, when the evenings among the four walls of the house will seem endless. Our lamps will illuminate the cool summer evenings, while opening the door you will welcome visiting friends.

Scritto il: 22/01/2023
Da: Roberto

Lascia un commento