DOiT Parete Creativa
design by: Andrea Radice e Folco Orlandini
Taglie | Size:
Medium - XLarge
Misure | Dimensions:
DOiT 57: cm57x22x210h - DOiT 120: cm120x22x210h
Colori | Colors:
Bianco, nero, rosso
---
White, black, red

Versioni | Versions: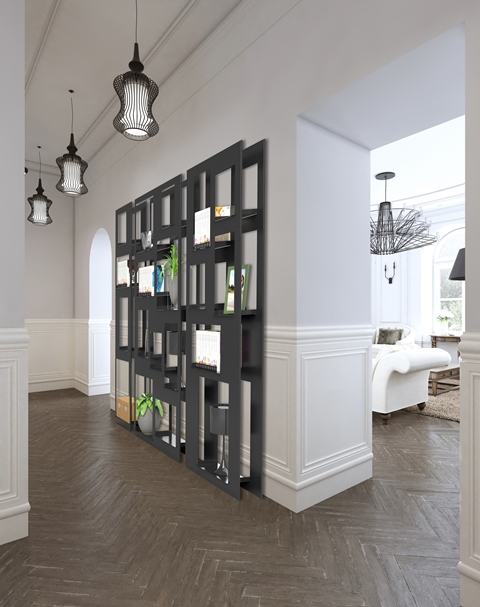 Come in una tela astratta
DOiT 120 e DOiT 57 le librerie razionalizzanti
DOiT 120 di Andrea Radice e Folco Orlandini. Una libreria che diviene parete creativa, con 9 aperture costituite dai moduli per contenere testi o riviste: impossibile non ammirarne la composizione geometrica razionalizzante e la capacità di occupare uno spazio esiguo anche con una dimensione importante. Piccoli quadrati e rettangoli si vengono a formare come in una tela astratta di Manlio Rho, Mondrian, Malevich.
Egualmente, DOiT 57 è fondata sullo stesso principio, con però un solo lineare blocco che consente 4 aperture (rettangoli eterogenei), ed è quindi più "snella".
Entrambe in metallo verniciato a scelta tra rosso, bianco e nero.
---
As in an abstract canvas
DOiT 120 and DOiT 57 the rationalizing bookcases
DOiT 120 by Andrea Radice and Folco Orlandini. A bookcase that becomes a creative wall, with 9 openings made up of modules to contain texts or magazines: it is impossible not to admire its rationalizing geometric composition and the ability to occupy a small space even with a large size. Small squares and rectangles are formed as in an abstract canvas by Manlio Rho, Mondrian, Malevich.
Equally, DOiT 57 is based on the same principle, but with a single linear block that allows 4 openings (heterogeneous rectangles), and is therefore "slender".
Both in painted metal in your choice of red, white and black.

Scritto il: 03/07/2012
Da: Giovanna

Scritto il: 20/04/2023
Da: Francesco

Lascia un commento