Skylight, Nuove Luci su New York- portaoggetti
design by: Alessandro Giust
Taglie | Size:
Small
Misure | Dimensions:
30,5x13x4 cm
Colori | Colors:
Nero | Black
Versioni | Versions:
Acciaio | Steel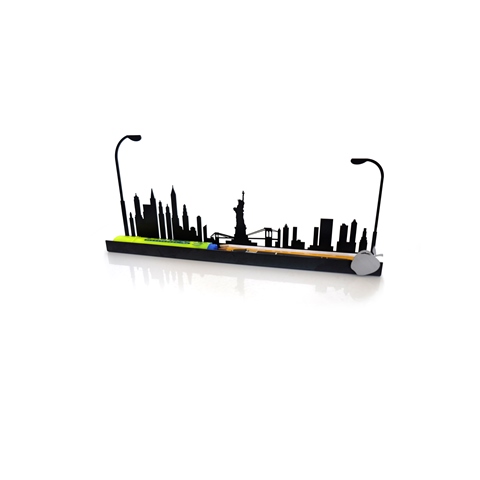 Puoi organizzare la scrivania come desideri. Skylight può contenere i tuoi accessori: la cancelleria e il cellulare. Il raggio laser corre sulla lastra di metallo e rapido incide il profilo di New York. Ogni dettaglio viene ricavato con estrema precisione, con la Grande Mela che testimonia col suo design architettonico eterogeneo di capitale del Novecento.

Per idee regalo Skylight può essere confezionato nella sacca sportiva 100% cotone in colore naturale e con manici regolabili in lunghezza.
You can organize the desk as you wish. Skylight can hold your accessories: stationery and cellphone. The laser beam runs across the metal plate and rapidly cuts through the New York skyline. Every detail is obtained with extreme precision, with the Big Apple testifying with its heterogeneous architectural design as a capital of the twentieth century.

For gift ideas Skylight can be packaged in the 100% cotton sports bag in natural color and with adjustable handles in length.