Epta
design by: ALALDA _design
Taglie | Size:
Small
Misure | Dimensions:
cm 42,5x44,5x20h
Colori | Colors:
Bianco, nero, rosso, arancione, verde, fucsia, giallo, azzurro, lilla | White, black, red, orange, green, fuchsia, yellow, light blue, light violet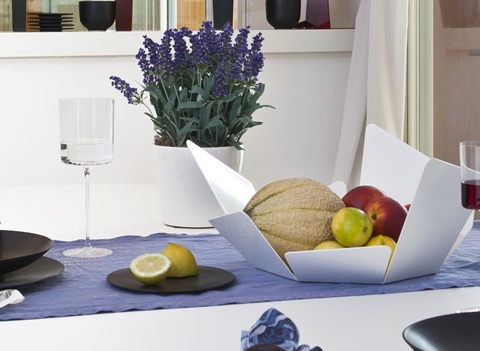 Centrotavola / Portavaso
Epta, oggetto eclettico può essere centrotavola oppure porta vaso; la sua forma dinamica si schiude come un grande fiore e aggiunge allegria in tutti gli ambienti, sulla tavola e nella casa. E' elegante nelle versioni bianco e nero, vivace nei differenti colori.
Table centre-piece / Home decor plant pot
Epta, eclectic object, can be a centre-piece or a decor plant pot; it has a dynamic shape, which blossoms like a flower and adds joy to any environment, on your table and home. Elegant in the white and black versions, bright in different colors.

Scritto il: 15/07/2011
Da: Diana

Lascia un commento