Duo Lumen
design by: Origami Steel Studio
Taglie | Size:
XSmall
Misure | Dimensions:
cm 7,5x4,5x12h
Versioni | Versions:
Acciaio lucido | Polished steel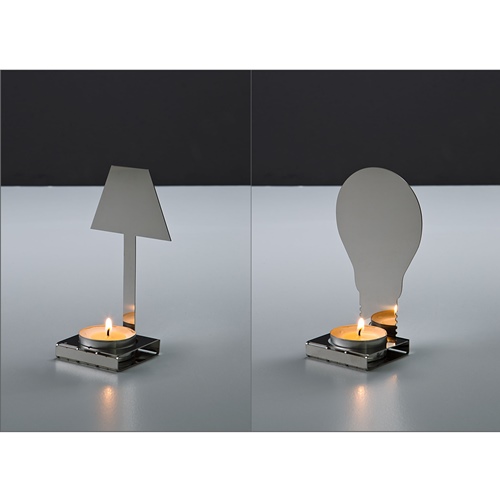 Porta candela
Duo Lumen sono delle miniature porta candela delle omonime lampade di Caoscreo, realizzate in elegante acciaio inox lucido. La confezione - idea regalo, comprende una sagoma in metallo e una candelina per un immediato utilizzo.
Piega facilmente le silhouette e realizza rapidamente le miniature, accendi le candeline e crea un'atmosfera piacevole e rilassante.
Candle holder
Duo Lumen is Miniature and candle holders of the homonymous Caoscreo lamps, made of elegant polished stainless steel. The packaging - a gift idea - includes a metal silhouette and a small candle for immediate use.
Fold easily the silhouette and create quickly your miniatures, light the candle and create a pleasant and relaxing atmosphere.

Scritto il: 30/09/2010
Da: Riccardo

Scritto il: 20/10/2011
Da: Alice

Lascia un commento