Dividendo
design by: Benedetto Quaquaro
Taglie | Size:
Small
Misure | Dimensions:
cm 17x20x28h
Colori | Colors:
Rosso, bianco, nero; dettagli in acciaio lucido | Red, black and white; details in polished steel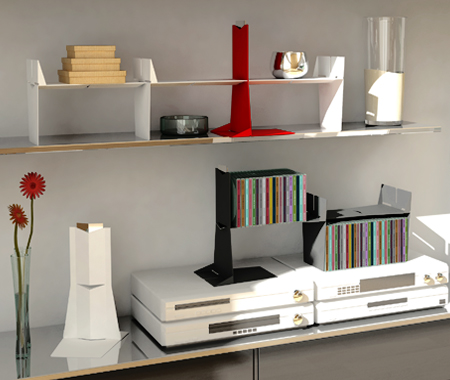 Porta CD/ Fermalibri/ Rationelle

Dividendo è realizzato in metallo verniciato, nei colori bianco/nero semplicemente eleganti o nell'accattivante rosso. Da solo è un utile fermalibri oppure, combinandosi creativamente con i suoi simili e disegnando microarchitetture che suddividono gli spazi, diviene porta cD o rationelle.


Bookend/ Rationelle/ CDs holder

Dividendo is made of painted metal in simply elegant white/black or in a fascinating red. Alone it is a useful bookend or, creatively combined with his fellows and drawing microarchitectures, which divide the space, it becomes CDs holder or rationelle.