2.D Decor Night & Living
design by: Fabio Marchi
Taglie | Size:
Small - Medium
Misure | Dimensions:
2.DNight Decor: cm18x7x32h 2.DLiving Decor: cm 27x9x50h
Versioni | Versions:
Metacrilato rosso satin (paralume), acciaio Calamina (stelo) e inox Mirror (base) | Red satin Methacrylate (lampshade), Calamine steel (stem) and Mirror stainless steel (base)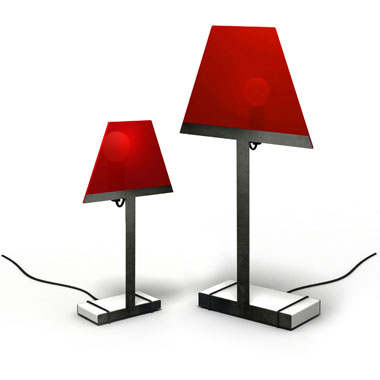 Lampada da tavolo
Le silhouette bidimensionali ed essenziali di 2.D Night & Living, ora si rivestono di nuovi materiali leggeri e sensoriali, creando effetti di luce emozionale e d'atmosfera. Il paralume in metacrilato satinato rosso filtra e colora con toni caldi la fonte luminosa retrostante, mentre lo stelo e la base della lampada sono in metalli naturali, esclusivi e unici (acciaio inox Mirror per la base e acciaio Calamina per lo stelo).
Table lamp
The bi-dimensional and essential silhouettes of 2.D Night & Living now cover themselves of new light and sensorial materials, creating effects of emotional and atmosphere light. The red satin methacrylate lampshade filters and paints with warm hues the light source behind it, whereas the stem and the base of the lamp are of natural, exclusive and unique metals (Mirror stainless steel for the base and Calamine steel for the stem).
Elettrificazione | Elettricity : 60 W E14 250V

Pdf: Etichette Energetiche

Pdf: Etichette Energetiche

Pdf: Energetic Labels

Pdf: Energetic Labels