Reggy & Leggi
design by: Giulio Simeone
Taglie | Size:
Small
Misure | Dimensions:
Reggy cm 18x0,2x7h
Versioni | Versions:
Reggy in acciaio inox pallinato | Reggy in blasted stainless steel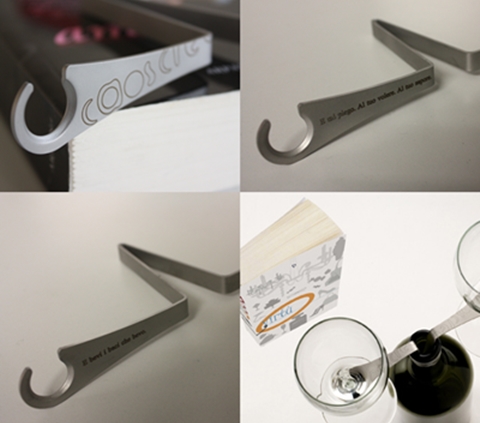 Portacalici + libro | Wine glass holder + book
Idea regalo romantica e speciale, perfetta anche per San Valentino.
Crea atmosfera e servi un brindisi romantico con l'esclusivo porta calici Reggy, design di Giulio Simeone e l'appassionante lettura di "Eros & Amore" o "Virtù & Peccato", libri della collana double face - ARPANet edizioni. Reggy è impreziosito da un'elegante citazione, incisa a laser e tratta dai versi di Chiara Gobbicchi e Mariella Sudano, autori dei due testi.
Romantic and special gift idea perfect also for Valentine's Day.
Create the right ambiance and serve a romantic toast with the exclusive CAOSCREO wine holders and the gripping reading of "Eros & Love" or "Virtue & Sin", two italian books from the double face series by ARPANet Editions. Reggy is embellished by an elegant laser engraving quote taken from the verses of Chiara Gobbicchi and Mariella Sudano, authors of the two books.