Abelia
design by: Jannu Carrillo Molina
Taglie | Size:
Small
Misure | Dimensions:
cm 27,5x20x32h
Colori | Colors:
Versioni | Versions:
Stelo in acciaio Calamina + Paralume bianco in Cuoio al Vegetale | Stem in Calamine steel + Vegetable Tanned white Leather Lampshade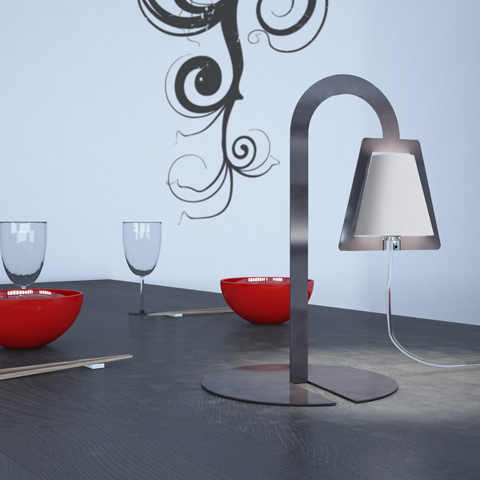 Lampada da tavolo
Abelia è un affascinante connubio di stili, un ossimoro materico che unisce il rigore sintetico del metallo nello stelo arcuato e caduco, alla morbidezza emozionale della corolla, filtro della fonte luminosa. Abelia si integra come un dettaglio prezioso in ambienti minimal o esprime un carattere deciso e particolare in spazi più tradizionali. Il paralume è prodotto con Cuoio con concia Al Vegetale. La selezione dei materiali che la compongono, naturali e riciclabili, la rende ancora più interessante e contemporanea.
Table lamp
Abelia is a fascinating blend of styles, a material oxymoron, that combines the synthetic rigor of metal in the arched and transitory stem to the emotional softness of the corolla, filter of the light source. Abelia is integrated as a precious detail in minimalist style rooms or expresses its particular and strong character in more traditional spaces. The lampshade is made of Vegetable Tanned Leather. The selection of the materials, natural and recyclable, which the lamp is made of, makes it even more interesting and contemporary.
Elettrificazione | Elettricity : alogena | halogen 20W G9 220-240V

Pdf: Etichette Energetiche

Pdf: Energetic Labels

Scritto il: 16/05/2012
Da: Sandra

Lascia un commento